With Tappi, be visible, be found (Series 1)
How To Create A Website In Less than Two Minutes
Why Your Business Needs A Website Right Now
81% of shoppers choose to research a business online before making a purchase, with 55% searching for online reviews and 47% searching for the business' website. Now picture this: A potential customer hears about your unique products and services from a friend, then, they want to see and understand your products and services first before interest is sparked. They would need a platform to interact with you without speaking to you directly. That is where a website comes in.
Over 71% of small businesses have their website. Nowadays, it is no longer an accessory but a need. Customers would prefer a business with a website most likely because:
A website is a 24/7 sales machine: Whatever time of the day, the customer can access information about your business without reaching out to anyone.
Showcase Your Brand Professionally: A website is a perfect place to showcase your brand and what your business stands for professionally. You can share your story, your values, and your unique selling proposition with your customers.
Building Your Credibility: This is your chance to stand out as a business from your competitors. With a website you can clearly state your product or service details from product description to price tags, hence providing quality information to affirm the legitimacy of your business.
Now here's the good news, with Tappi, you can get a beautiful, professional website up and running in less than two minutes! all displayed in a user-friendly and organized manner. It includes features like customer reviews, product displays, and contact information. Plus, customers can leave reviews directly on your website, giving your business the social proof it needs to attract more sales.
Now, the best part? When you sign up, the webpage created for your business is FREE. That's right! You don't have to spend a single dime to get a webpage that can take your business to new heights. Tappi is indeed a necessity for small business owners everywhere! Ready to join the digital revolution and get your business online? Just follow the steps in the next topic.
How To Register On Tappi
Method 1
1. Go to the Tappi website, tappi.app
2. Click on "Get started" at the top of the right.
3. It will take you to a WhatsApp page where you can interact with the Tappi chatbox.
4. Fill in your details in response to the chatbot and viola! You're fully registered.
Method 2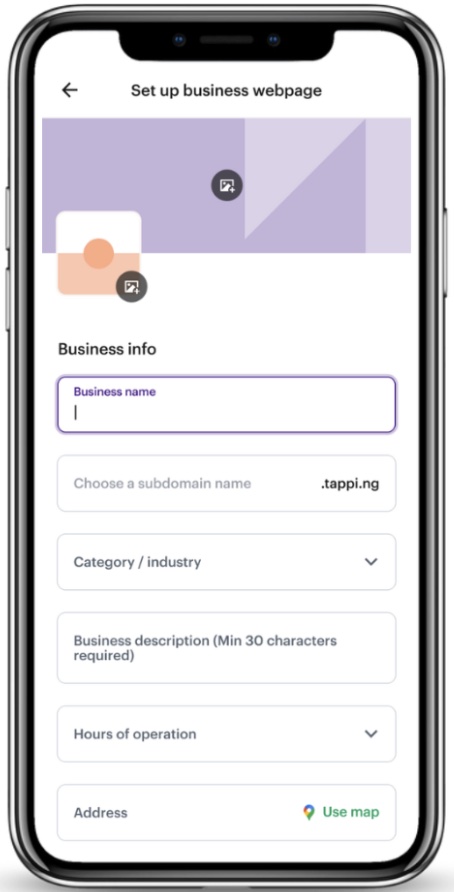 1. Download the Tappi app here
2. Sign up with your business details.
3. Click on "Save" and you're good to go.